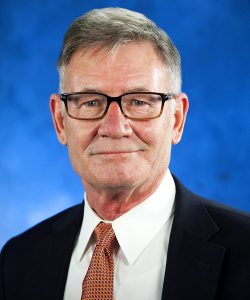 Martin Miller went to be with the Lord on September 27, 2019, ending his battle with cancer. He was at home, surrounded by family. Martin was born to A.P. (Pete) and Adeline Miller on December 16, 1952 in Marshall, Texas. He graduated from Atlanta High School in 1971 and was an outstanding track athlete. Martin still holds the AHS record for fastest time in the mile. He also won the state title his junior and senior years in that event. He returned to Atlanta every year for sporting events and track meets and enjoyed watching the sport evolve.
He graduated from SMU where he received a degree in Criminal Justice. Then Martin served in the US Army for three years and was honorably discharged in 1982. Following that, he earned an MBA from Texas Tech and went on to obtain a law degree from Baylor.
He served as an Assistant D.A. in Dallas County for 12 years. He then joined the law firm of Bailey and Galyen in 2002. Martin was dedicated to the entire breadth of law, enjoying the challenges of both prosecution and defense.
Martin was a Christian and held the honor of 32nd degree Mason. He was a voracious reader of history and current events. He loved the Dallas Cowboys, Texas Rangers, and his hometown team, the Atlanta Rabbits. In 2013, Martin was honored by the Atlanta Education Foundation as a Distinguished Alumnus for his achievements in business, law, and sports.
Martin was preceded in death by his parents. He is survived by his wife, Joan and also his sisters: Mary Lynn Sopher and husband, Jamil, and Margaret Fitts and husband, Wayne, and numerous nieces, nephews, and cousins.